New Apostolic Church Invests in Turning Leaf Church Furniture
At Turning Leaf, one of our key specialities is the design and manufacture of church furniture – from altars, lecterns and pulpits, to accessories and mixing desk cabinets.
We work with churches and suppliers from across the country – providing in house product designs and bespoke products for a wide range of denominations and religious communities, in buildings of all different ages and styles.
Over the past year, we've been helping the New Apostolic Church with a range of projects, as part of a nationwide upgrade programme. Working closely with their team, we've been providing a full service, from bespoke design right through to manufacture and delivery.
Here's how we're helping.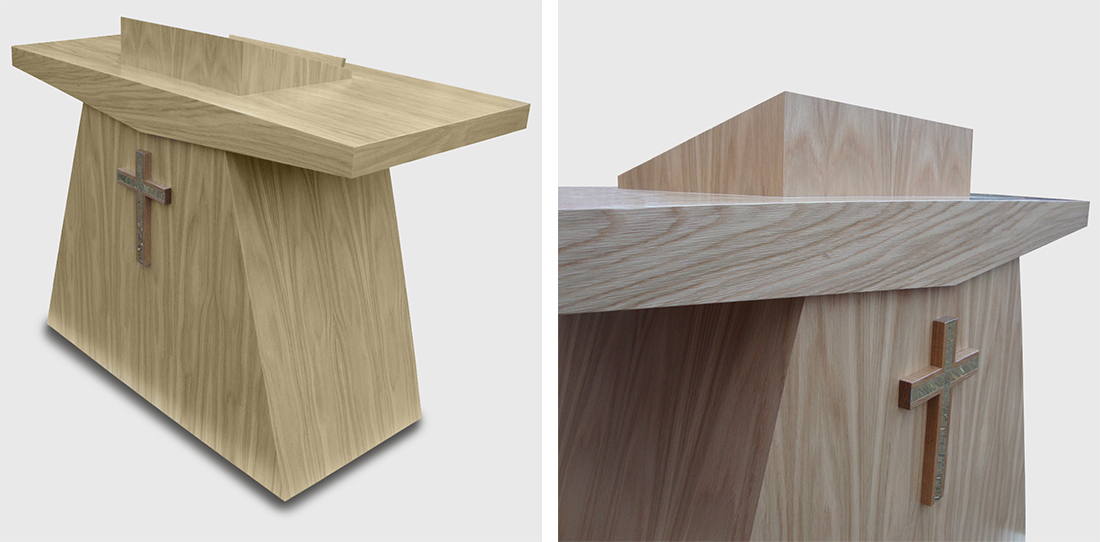 Finding the right church furniture supplier
We first started to work with the New Apostolic Church in June 2016. David Middleton, the new Estate Manager, was looking to improve the facilities at its churches across the UK for the benefit of its congregations.
After struggling to find a high quality, personable supplier with the capacity, design experience and manufacturing ability needed to deliver on the project, he came across Turning Leaf online. After a quick word with Ruth, he knew he'd found the right firm, and we've been working together ever since.
David explains:
"As the newly appointed Estate Manager for the New Apostolic Church, it was a mission to upgrade all of our churches and to provide better solutions to congregations that gather in hired halls. It soon became apparent that finding a contractor who I could easily speak with to discuss and design product to suit the individual needs of each congregation was not an easy thing!
"As soon as I had spoken to Ruth Weaver of Turning Leaf I knew my search for a sympathetic supplier had come to an end. Always easy to work with, understanding of our quirky requirements, from conception, twists to design, to delivery and fitting, the staff and the product were always to the highest standard."
Designing the bespoke altars
One of the key challenges facing the church was finding furniture to fit in with the different requirements of its congregations. It came down to creating customised, purpose manufactured furniture solutions to suit different church buildings and meeting halls.
Together with David, we put together some bespoke designs for new altars, pulpits and communion tables. Our dedicated in house teams used our advanced CAD drawing suite and CNC precision manufacturing equipment to bring the ideas to life in sturdy, unique church furniture that hit the brief exactly.
The church was delighted with our work. Following the first project, we've now gone on to create bespoke church furniture, hymn boards and decorative crosses for churches across the UK, including Welling, Gloucester, Chelsfield, Nottingham, Camberley and Corby.

Into the future – a long term relationship
At Turning Leaf, we look to forge long-term relationships with all our clients, and the New Apostolic Church is no exception. Currently, we are working with David to design and manufacture a new mobile altar – a flexible, portable solution to serve congregations in the church that meet in hired halls.
David has been really happy with all our work so far, and plans to work with us going forward on future projects:
"I shall continue to develop new product with Turning Leaf and I suggest any business, and especially churches sit down with this easy-to-work company who feel more like friends and colleagues."
We look forward to helping David and the New Apostolic Church as they continue with their programme of upgrades.
Church furniture from Turning Leaf
Whether you represent a church or a supplier, Turning Leaf are here to ensure you benefit from the right, high quality, made to order church furniture. We provide altars, lecterns, pulpits, accessories and mixing desk cabinets, in designs suit your requirements, budget and building – manufactured and delivered in 3-4 weeks.
In addition to a selection of unique, in-house designs using real wood, veneers and acrylic, we offer a full bespoke design service, working with you to create unique, made to order furniture to match any requirement.
For additional information, or to discuss your church furniture requirements, please call Turning Leaf today on 01482 219017 or email [email protected].