Fashion and Function – The Premier Acrylic Lectern 07 from Turning Leaf
AV lecterns can be beautiful!
At Turning Leaf, our design team is always looking to develop new, innovative pieces, and recently, we've developed a new hybrid product that combines the usability of an AV lectern with a stylish, modern design.
A world away from the traditional, functional designs found across the market – the Premier Acrylic Lectern 07 is a contemporary, premium presentation and AV lectern. It's proved a big success, and is quickly finding favour with customers across a range of industries who want a lectern that looks great and works in the real world.
There really is nothing like it on the market!
Style and substance – challenging the market
Traditionally, AV lecterns follow certain design features – usually dominated by large, square cabinets. This is done out of necessity, to provide plenty of space for chunky equipment. Unfortunately, this has an impact on the design, which means that most products end up looking functional rather than stylish.
The flexible design allows for a range of AV equipment, including a screen, microphone and light, and features space for a small amount of rackable equipment inside the cabinet. With AV equipment becoming smaller and more streamlined, it can deliver functionality for a wide range of applications.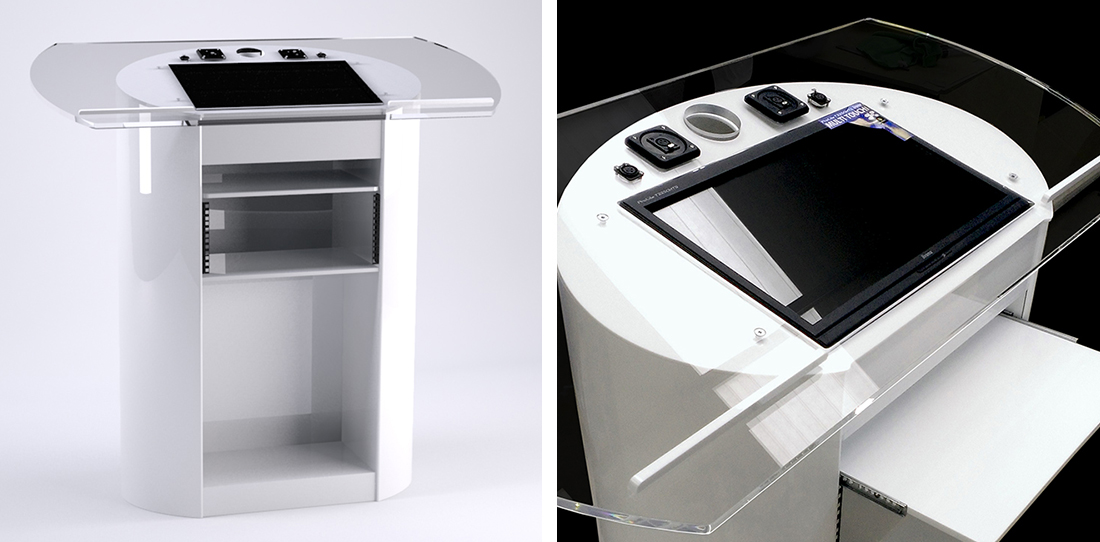 Flexible options – designed to suit your business
The Premier Acrylic Lectern 07 started out life as a bespoke product – and as with all the products we have to offer, it can be adapted to meet the requirements of any organisation.
'Off the shelf', it's available in white or black acrylic, but can be fully customised to include company logos and branding as required. The design itself can be modified to suit the customer, and we've created versions with screens, doors and shelving solutions.
In addition to the acrylic model, we can produce the lectern in laminate with an MDF core, or a combination of laminate and acrylic. Whatever your needs, you can be confident that we will deliver a lectern that looks fantastic and performs for you.
Real World Applications and Customers
The Premier Acrylic Lectern 07 design has proved popular with AV resellers and end-customers from across a number of different sectors. The education sector has embraced the product, and it's now found in schools and universities across the UK. Earlier this year, we supplied a bespoke AV version to The University of Portsmouth, for one of their flagship lecture theatres.
The elegant, contemporary design has also found favour across the corporate world, providing a stylish statement piece for use in conference/meeting rooms, training and presentations by businesses across the UK. Other customers have included churches, looking for more modern lectern designs to complement contemporary places of worship.
AV Lecterns from Turning Leaf
Whatever your requirements, Turning Leaf are here to ensure you benefit from the right, high quality, made to order lecterns, AV furniture and church furniture. In addition to a selection of unique, in-house designs using real wood, veneers and acrylic, we offer a full bespoke design service.
All products are manufactured in the UK to the highest standards, and available quickly – manufactured and delivered in 3-4 weeks.
For additional information about the Premier Acrylic Lectern 07, or to discuss your requirements, please call Turning Leaf today on 01482 219017 or email info@turning-leaf.org